Hello goddesses.  Happy Halloween Week to each of you fabulous free spirits!
Every year I do something special for Halloween…  It's a fun time of year–costumes, parties, candy, decorated houses and yards, neighbors greeting each others' kids.
There's a good bit of magic and mystery and folk lore around around Halloween also–much of it tied to religion and our deepest beliefs and fears.  One way of dealing with fears is feeding them–our media does a lot of that with its pot-stirring drama stuff; another is laughing at them–costumes and parties and humor.
And in the quiet of our inner sanctum is a third way:  We question and examine those deep-held beliefs and fears, and review their merit to us now.  We know more; we've matured, grown.  How often we find shadowy things lose their fear-factor once light is focused their way. …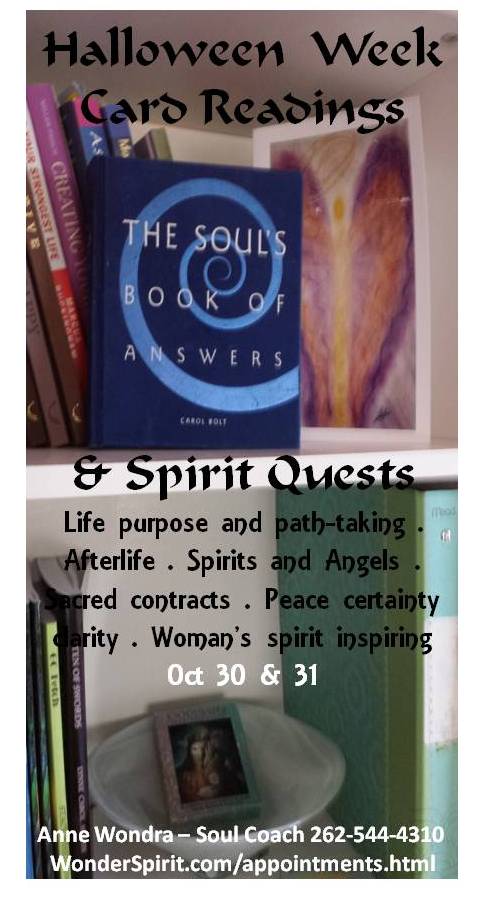 Still got some of those spiritual-fear skeletons hanging out that need a little light shined their way? … Or maybe life has dealt you a blow too close to be laughed at yet.  Those are Halloween soul times too.
Either way, I have a love-and-light-shining and healing special for you Thursday and Friday this week, in the sacred space of the Kindred Spirit Center.  Join me.  Appointments recommended.  Cards, resources, spirit counsel, and an evening about the afterlife gathering.  $50 coaching sessions, $10 card readings.
Have a hallowed 'holy' week!  See you soon.  – Anne 🙂
Spiritual self-coaching tool kit
PS  Saw both an eagle and a swan this morning… wow!  Amazing stuff….