Good morning, beautiful earth goddesses,
Pulled two goddess cards today from The Goddess Oracle deck: Bast and Tara.  Here's a little message from each:
BAST – PLAY … She ruled pleasure, joy, music, dance, health and healing, the moon, and of course, cats.
Bast bats at you with her paw to urge you to come and play with her.  It is time to divert yourself with something that is amusing, fun, and totally recreational….  Bast tells you the way to nurture wholeness lies in engaging in play.  …
TARA – CENTERING
Tara, who originated in India and whose name means "star," is a major Goddess in the Tibetan pantheon.  She is known to help those who call upon her in tumultuous times of need, to steer a clear path, to find the stillness and strengths within.  She is also the Goddess of self-mastery and mysticism….
Tara is here to remind you to center.  it is time to nourish wholeness by going within and strengthening your center by focusing your awareness.  let the turmoil of life go on without you. …  Go into the quiet, go into the calm.  When you return you will be stronger and more capable of dancing with what life has to offer.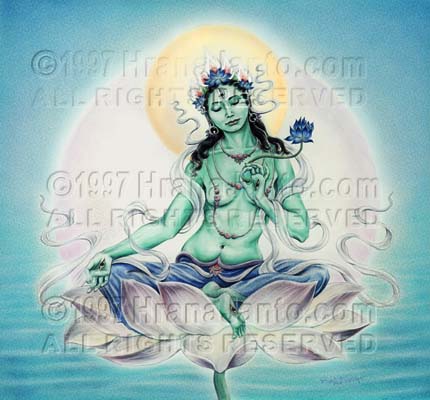 So I took some quiet, centering time, and now it's off to some errands and a little playing in the sun.
Have an amazing day, everyone!  – Anne