…the number one thing you can do for your health is to live joyously …  (Christiane Northrup, M.D., Goddesses Never Age)
Hello goddesses,

Grow your greatness with me, and learn much more about your magnificence and power within.  This is Soul Mind Body LIFE-engaging well-being… And I'm offering them FR*E*E to Everyday Goddess Community members.  I want to empower–and hold space for– growing and greatness.
Like Summer Beach Group, this begins with a book that empowers, inspires, and delightfully offers wonderful wisdom material for women to talk about–real stuff, much more substance than small-talk surface stuff…
Goddesses Never Age, by Christiane Northrup, M.D., is my book backdrop this time.  From her quote above, and these, and from your experience with me, you know that this is another outside-old-boxes book and groups I'm offering. (There is enough surface-stuff and boxes-stuff offered elsewhere; this is deeper, expanded, and well-seasoned for growing…)
So MUCH is opening up, so MUCH knowledge that was not known before, about our Well-BEing-ness…our soul-mind-body-life-connected synergy… and this is a resource, and these are well-being support circles, to explore those connected pieces of knowledge…and apply them.
Christiane Northrup is an M.D., a medical doctor and woman whose life and learning led her to write this book.  Traditional medicine discounted Spirit and spirituality as an element of well-being, mostly because a lot of what is 'spiritual' was not able to be measured by science.  And now, MUCH more IS able to be measured…and that truly shifts everything….
Religion and science were always connected, sister studies.  Science was once an offshoot of religion–the idea being that science would prove teachings of religious faith and belief.  It didn't work that way; scientists were independent truth-seekers. For some, like Galileo, that independence and conflict with religion led to their death.  Many goddesses are also independent truth-seekers… today, too.
This book and these groups–one, afternoons, in Waukesha; another, evenings, by phone–connect our mind-body-spirit, total well-being, personal growth, living healthy, spiritually connected, and full of pleasure and joy.  Get the book and register HERE.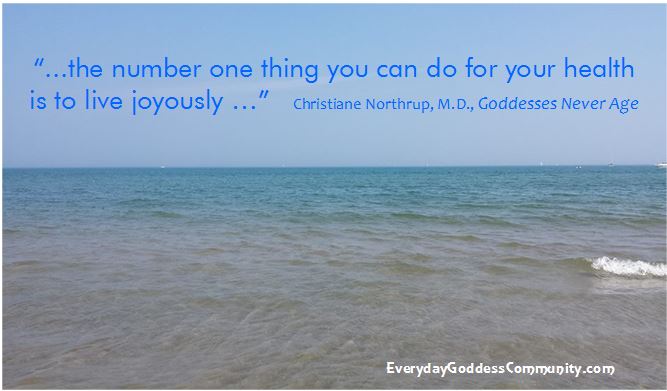 I hope you join me and other goddesses in one of these weekly circles!
Live joyously….take time to do what makes your soul happy…self-discovery is a sacred path; finding joy in living is its purpose….  – Anne