Hello goddesses!
Reading about Archetypes recently.  Turns out one of them I live in is the Fashionista / Goddess archetype–more than I thought.  Fashionista?
Except clothes are only part of it; there's creativity and soul in there:
The creative instincts of the Fashionista are not limited to fashion. … Your challenge … is creating a lifestyle that reflects who you are and empowers you as a person. You need to feel good in your body, your mind, and your clothing. Your lifestyle needs to be your greatest personal design, because confidence is your greatest accessory. – Caroline Myss
I never thought of myself as a Fashionista type.  L
atest styles are not on my radar.  And then, I clearly heard my little sister's voice chime in: Oh, yeah, Annabelle, you're a Fashionista all right...
How many times do I stare at my closet and figure out what I'm going to wear that day.  It has to feel right, look right.
I have changed tops or pants multiple times just to get it right.  Color, flow, feel, matching–all go into it.  Some days it just takes extra long to put together the feel and style I want wear that day…  (She on the other hand, would have thrown on a pair of jeans and tee-shirt and been out the door without a second thought!)  I chuckle.  She's right.
Those Fashionista pieces of me are very much about dressing symbolically, including color, matching, feeling everyday-goddess-y and playful.  It is also the Ugly Duckling coming into her beautiful Swan-self. She, too, is part of my past and a catalyst to my confidence, coaching, and creative expression.  And I have created a lifestyle and a company that empowers me as a person (and empowers others because of it, too).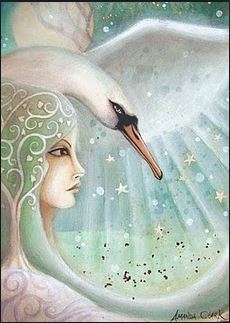 And all that connects with that Artist / Creative Archetype in me…  Another time maybe.  So good, fun, and delightfully creative, though!
Self-discovery is a sacred path; finding JOY in living is its purpose. – Anne Wondra
Have a beautiful day!  Be your own brand of beautiful fashionista / goddess / creative / artist and create a life you love.
Anne