When Your Heart is Cracked Wide Open author Tara Majeska will be our guest next Monday, August 12.  She is a teacher and a woman of depth and heart, compelled to write out of something significant…and find  courage to share it to benefit others.  About the book, she says:
What can you do when your heart is cracked wide open, and you feel like there's no hope? The answer is to use your open heart as a guide to move through life's challenges and rediscover what you are really all about.
Heart-breaking traumas, dramas and struggles are often a call to look deeper within to see with a new, more expanded perspective. They call us to love all the broken parts of ourselves so that we may live a life filled with love.
As one whose heart has been cracked wide open, I'm looking forward to Tara's wisdom and presence.  You're invited to join me.
The Author Sanctuary Series is a place of safety where seasoned women share what is not often shared elsewhere….deeper, sensitive stuff, and more personal.  When an author writes, there's often a story underneath, and behind the story.   A sanctuary offers a smaller, more comfortable, sacred space to speak.  Author Sanctuaries are held each Monday morning in August.  More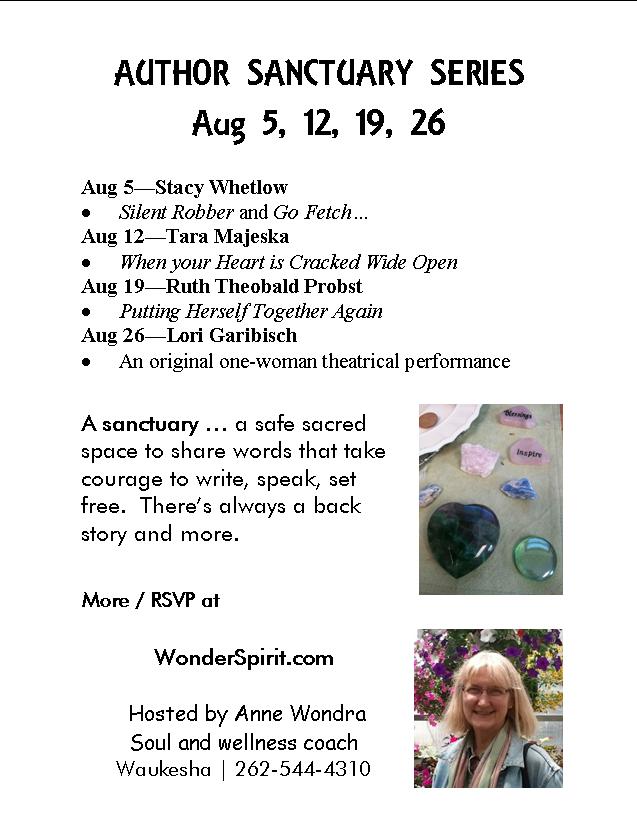 Join me Monday morning, August 12, in Waukesha.  RSVP HERE and Mark your Calendar.  – Anne 🙂
PS  Here's a look at who's coming up August 19, and 26 too.