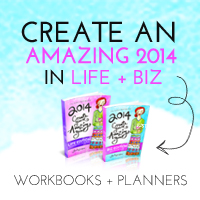 It's here!–okay, not physically here with me…  Goddess Leoni's Life and Biz Full-Color FUN 2014 Workbook and Planner can be downloaded or purchased through Amazon.  You have to check it out!  These are awesome tools to inspire and guide you to playfully create an Amazing 2014!
This woman is a creative inspiration muse for me…in all kinds of ways.  Her art is colorful and whimsical and playful–and still has very worthwhile and good.  I used last year's and love it!  (I'll also admit to not filling it out completely…there is SO MUCH in it!)
Since many of you are also Biz goddesses, check out Goddess Leoni's Amazing Biz + Life Academy too.  I'm a fan of that too–and discovered I would love to work with Goddesses who are also using these materials and creative inspiration.
You know I'm a connector…people, materials, technology, inspiration, artsy kinds of stuff…just because that's what I do.  More.
Much love, and keep PLAYING!  – Everyday goddess Anne
PS  Did you know, the opposite of PLAY is not work; it is depression.  And there is a National Institute for Play.  So keep playing and creating.