Hello beautiful goddesses,
Today I share an opportunity another beautiful goddess is offering.  Her spirit is one that encourages each of us to truly be ourselves and shine and create and have fun. Sound like someone else you know?
Yes, I know.  She's a kindred spirit and I love her style.  Her name is Goddess Leoni and she has a Biz Goddess 5-Week e-course that she'll be holding live soon.  Here's her story.  And if it resonates and you'd like to get in on the fun, you can do that here.
Once upon a time, there lived a hippy who loved to make art & do soulful hippy things. She also worked in a cubicle job, until one day she could stand it no longer. She went for a walk in a field, and decided that within a year she would learn all she needed to know about business and turn her little hobbies into a big thriving business.
And she did it. Every year since then, her business has doubled in size, and has now become the sole income for her family – letting her & her husband both be stay at home parents and move to tropical paradise.
The Business Goddess e-course is everything she learned along the way about how to become a Business Goddess.
It is complete guide–over 190 pages!!–for how to make money online, the blueprint of how she did it, 100+ ways to market magically, mindfully & joyously, and how to sane & joyful when business gets BUSY!
It comes chock-full of bonuses too: profiles of inspiring business gods & goddesses & the Magic Money Maker kit!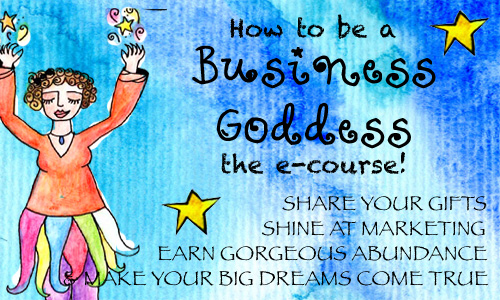 You'll find this and more on our Everyday Goddess Business Resources page.
 
Love, Light, Joy, and Happiness, Everyone!  – Anne